Christian Meditation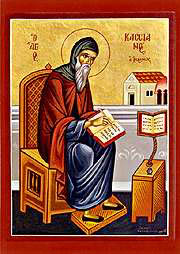 Father John Cassian (pictured), a late 4th century desert father, introduced the use of mantra, which he called a formula, to Western Monasticism. He recommended the simple constant repetition of a single short verse as the best way of casting out all distractions from the mind, in order that it might rest in God. The mantra recommended by the Christian Meditation Community is the Aramaic word, 'maranatha', meaning 'The Lord comes'. It is this word that ends St Paul's first letter to the Corinthians as well as the Book of Revelation.
We are affiliated with the Christian Meditation Community (CMCWA) and have been meditating for 10 years, as a direct result of a request from a clinical psychologist based in West Perth at the time.
All are welcome. Simply turn up and we will guide you.
Mondays 12.10pm - 12.40pm
at Ross Memorial Church